Please join us for a fundraiser lunch, Sunday, September 8th at Blaze Pizza as we raise money for Team World Vision.
Generations Church has a team running in the Long Beach Marathon/Half Marathon event with Team World Vision. They are running/walking to bring life-changing clean water to communities in need through Team World Vision. As they are running, they are raising awareness and raising money for these communities in need. Every $50 they raise, one child gets clean water for life. Our Generations Team is specifically running for the kids in Zimbabwe, Africa. 
If you join us for this fundraiser event, 20% of your meal purchase will go towards World Vision. Just show the flyer below to the cashier before purchasing your food.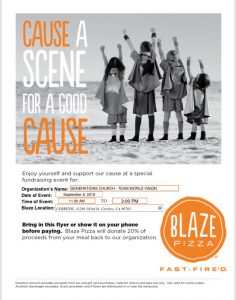 Date: Sunday, September 8th 11:30am-3pm
Place: Blaze Pizza: 11269 183rd Street, Cerritos, CA 90703
We appreciate your support! If you are also able to donate and support our team members, please follow this link. Click on Roster to donate to a specific team member.
To learn more about World Vision, click here.