Jesus redeems us from different backgrounds and different races at different ages with different stories, yet he makes us one family. And if the church is a family, then the health of your family is very important to us.
VACATION BIBLE SCHOOL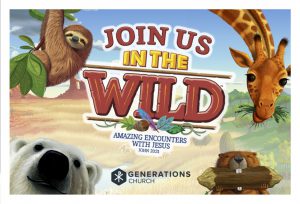 Vacation Bible School is coming soon! Our theme this year is: Into the Wild! Children who sign up for VBS will engage with the Bible as they rotate through crafts, music, snacks, and recreation. VBS is a free children's day camp for children ages 3-12.* Invite your friends and sign up!
Online registration is now available. To sign up, click here.
Date/Time: Monday, July 8th-Friday, July 12th; 6:30pm-8:30pm
Place: Generations Church: 18422 Bloomfield Avenue, Cerritos, CA 90703
To receive more information, contact us at brooke@generations.email.
*Children must be potty-trained to sign up.
GENKIDS
We love kiddos and highly value the next generation! Our mission is to come along side parents as they disciple their children. What you can expect from GenKids is a safe environment, gospel-centered resources, and amazing volunteers. We strive to creatively teach kids the gospel, so that they can grow in their own relationship with Jesus.
GENERATIONS YOUTH
Generations Youth exists to train the next generation through the gospel of Jesus Christ. We partner with parents to help students grow in relationship with Jesus, become servant-leaders where they learn and labor, and serve the church community as gifted participants.
For more info email info@generations.email